Primofit
Primofit is a compression fitting made of malleable iron which offers full end load capability ideal for use within the heating, ventilation, air conditioning and now even have a range for gas. No special tooling is required and it is perfect for efficiently connec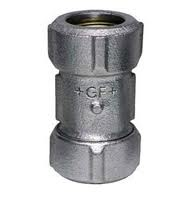 ting smooth-ended steel and PE pipes. Various sealing materials enable pressure-proof connections to be made for a wide variety of applications.
Advantages
• Very versatile connection – suitable for different pipe material and applications
• Quick & easy assembly – low costs
• No special tools or skills necessary
• Dismantling not required (before installation)
• No threads on steel pipe required
• Angular deviation possible
• Can be used in "awkward" places
Size: 15mm (1⁄2") to 76mm (3")
Connection: Compression
Finish: Black, galvanised
Click here to view/download product video
For more information, click on the manufactures logo. You may need to disable 'pop up' blocker.