Grooved Pipe System
SBS offers grooved piping products for HVAC and Building Services (Heating, Cooling, Chilled and Potable) through Grinnell which includes pipe couplings and fittings,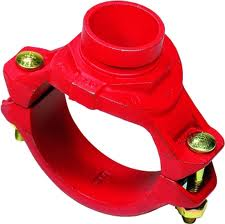 butterfly and ball valves, strainers, check valves, circuit balancing valves and pipe end grooving equipment. This piping solution is suited to installations within confined areas. Grooved pipe jointing provides a means of installing a clean and maintenance free piping system safely and quickly. Grinnell solutions are utilised in Building Services in many industries including; Hospitals, Universities, Food Processing, Commercial Offices, Airports etc… All products are backed by the industry's leading 10-year limited warranty and are supported by more than 3,000 engineering, sales and manufacturing personnel. Grinnell can offer a stainless steel WRAS approved system to meet the more demanding projects. A typical Dry Riser installation can be seen below highlighting some key Grinnell products regularly used.
Size: Diameter: 32mm (11⁄4") to 305mm (12")
Connection: Grooved
Temperature: -34˚C to 121˚C
For more information, click on the manufactures logo. You may need to disable 'pop up' blocker.