Tubular Pipe & Fittings
Kee Klamp are tubular fittings that are galvanised iron castings manufactured to the requirement of BS EN 1562 & 1563. The tubing is slipped into the fitting and lo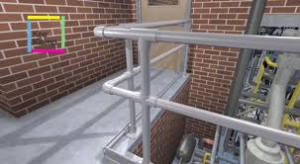 cked by a cup-ended socket set screw. A simple hexagon key is the only tool required to give a strong rigid joint. All components are produced in a range of sizes to suit steel tubing to BS EN 10255 (ISO 65) medium or heavy gauges and 17.5mm to 60.3mm outside diameter. Tube manufactured to other specifications can be used providing the steel is compatible with BS EN 10255 (ISO 65) and the wall thickness is not less than 3.2mm.
Kee Klamp Size – OD – NB
3 – 17.5mm – 10mm
4 – 21.3mm – 15mm
5 – 26.9mm – 20mm
6 – 33.7mm – 25mm
7 – 42.4mm – 32mm
8 – 48.3mm – 40mm
9 – 60.3mm – 50mm
Size: Nominal bore: 10mm to 50mm
Outside diameter: 17.5mm to 60.3mm
Connection: Allen key
Finish: Galvanised
Kee Access is DDA compliant handrail where the components are designed to create safety handrailing that complies with the UK Disability Discrimination Act (DDA). With Kee Access, the hand rail only comes in tube size 7 with an upright tube size of 8.
For other Kee safety products please enquire; Guard, Lite, Anchor, Stainless, Dome, Mark.
Click on the different products below to watch/download the product video
Kee Klamp – A Cost Effective Alternative to Welding with Unlimited Applications.
Kee Access – Kee® Access components are designed to create safety handrailing that complies with the UK Discrimination Act (DDA).
Kee Anchor – A modular mobile anchor fall prevention system, for use with Personal Protection Equipment (PPE). The Kee Anchor® product group includes Weightanka®, Wireanka® and Accessanka® options.
Kee Guard – A modular free standing roof edge protection system that does not penetrate the roof membrane.
Kee Dome – A free standing skylight fall protection system which does not penetrate the roof surface.
Kee Mark – The economical answer for quick, modular and free standing interior and exterior demarcation.
Kee Stainless – Stainless Steel handrails and balusters in grades (316) 1.4401 and (304) 1.4301, frameless glass balustrades, wooden handrails and a variety of different infill solutions.
Kee Lite – High grade Aluminium Silicon Magnesium Alloy which are strong yet light and extremely durable even in harsh environments.
Kee Gate – Self closing guard gate redesigned to comply with the latest version of the standard (BS EN ISO 14122-3:2016.)
For more information, click on the manufactures logo. You may need to disable 'pop up' blocker.