Press Fittings
SBS offer press fittings from 12mm to 108mm compatible with V (only up to 54mm), M and SA-profile jaws giving excellent flexibility. The fully guaranteed system with leak path feature offers a pressure rating of at least 16bar with technical gasses (non to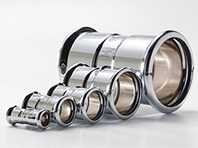 xic) and water/aqueous solutions. The comprehensive and flexible press fitting range is suitable for all modern building services, providing easy, fast, cost effective and reliable joints.
In recent years Smith Brothers have teamed up with Isotubi who specialise in a stainless steel press system as more and more projects require such superior material installed. Ask any SBS representative for more information on the system.
For more information, click on the manufactures logo. You may need to disable 'pop up' blocker.