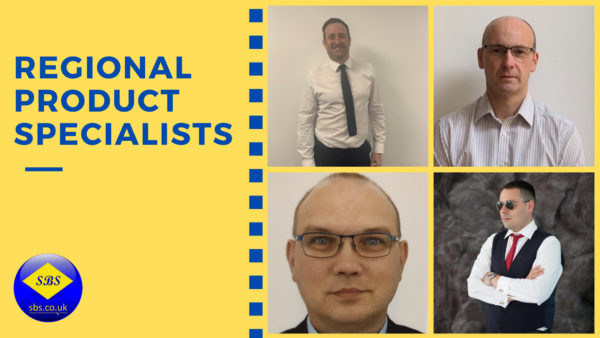 Introducing our Regional Product Specialists
Smith Brothers are delighted to welcome four new Regional Product Specialists to the business who will provide key product support to both SBS staff and customers, focusing on the exclusive to SBS brands Aquatechnik, Isotubi and Frabo.
Regional Product Specialists, Andrea Vignola, Andrew Martin, Clinton Thacker and Paul Berry will use their extensive industry knowledge and expertise to assist staff and customers with the below:
Full Technical Support
Product Specification – supporting and advising consultants, designers, main contractors and end users
Product Demonstrations
Installation Training & CPD Certification
Technical Submittals
Customer After Sales – site inspections & reports
Standards & Legislation
Working with the Manufacturers
In addition to working closely with customers and SBS staff, the RPS's will forge a close working relationships with each of the manufacturers and help to develop their products and all supporting documentation, literature and approvals to further enhance each brands reputation within the UK market.
Once the COVID-19 travel and hospitality restrictions have eased, they will be able to schedule factory visits, where both customers and staff can learn more about the manufacturer and their production capabilities. Our last visits in 2019 included trips to Aquatechnik and Isotubi.
Meet the Regional Product Specialists Team
Aquatechnik, Frabo and Isotubi
Aquatechnik
The Safety Pol system by Aquatechnik has a unique flared jointing system, which provides a simple, yet secure, installation method for multi-layer pipes. The EN21003 approved Lloyds registered product with high insurance backed warranties gives the user total peace of mind when installing.
The fully WRAS approved system with sizes between 16mm to 75mm utilises an easy to use tool, which expands the end of the pipe in order to accept the fitting. This method unlike other systems, does not reduce the bore of the pipe/fitting keeping flow rates at their optimum. This often means lower sizes are needed compared to other technologies. The fittings are fully demountable and adjustable, allowing installation flexibility whilst maintaining joint integrity.
The safety system is made up of Pe-X/Aluminium/Pe-X pipe and PPSU fittings, which together form a complete solution, providing high thermo-mechanical resistance and long term material stability and reliability.
If you would like to view the range, click the link: sbsonline.net/aquatechnik
Frabo
SBS stock Frabo M-profile press fittings from their copper & carbon range which are ISO 9001 certified. These products are typically used for plumbing installations, that include applications for water, heating, cooling, gas, solar, fire and many more…
The SECURFRABO press system is available in the sizes of 12mm – 54mm with an XL range up to 108mm. Like other systems, the product can identify un-pressed fittings during a leakage test.
If you would like to view the range, click the link: sbsonline.net/frabo
Isotubi
This 316L stainless steel press system is available in sizes ranging from 15mm – 168.3mm, the Isotubi NUMEPRESS system has a maximum working pressure of 16 bar and comes with a 25-year warranty. The products are manufactured to meet BSi and WRAS approval standards, as well as EN10217-7 and EN10312 standards.
Suitable applications include potable water, gas, heating, plumbing, solar, compressed air, steam, fire protection (sprinkler) and mining.
If you would like to view the range, click the link: sbsonline.net/isotubi-162