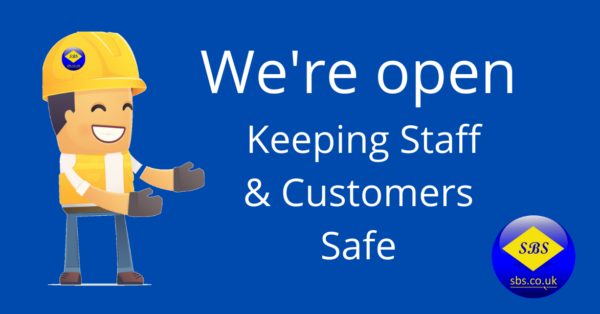 Lockdown 2.0
This is an update regarding our operations and availability of materials across our branch network as of Tuesday 3rd November. The construction sector continues to play a vital role and Smith Brothers felt it important to highlight our business remains fully operational across our network of branches.
In accordance with Government guidelines the business has implemented measures across our whole operation from deliveries to trade counters. If further details of these measures are needed, additional information is available from a previous article released (click here). These procedures are in place to actively promote safe working for our colleagues, customers and suppliers.
Smith Brothers are constantly reviewing and amending safety measures in accordance with Public Health England, Government and World Health Organisation advice. Stephen Godwin, SBS Health and Safety Manager said "we've spent considerable time keeping up to date with government and HSE guidance, which includes webinars and acting accordingly. We created an extensive internal COVID-19 policy, which is updated regularly and is communicated to management remotely to assure the policy and procedures are put in place. All branches have acted responsibly, supporting the information and making the necessary changes."
Customers throughout the UK rely on Smith Brothers, which is why it is it essential to regularly review and adapt our COVID-19 policy as things changed month to month. By being pro-active, SBS has been able to remain operational throughout the pandemic and have continued to service our customers safely, particularly those working on essential projects and supporting critical works.
Reminder of 'good' Covid practice
Trade Counter
Orders can be placed prior to collection
Face coverings to be worn (unless exempt)
Follow and adhere to signage
Deliveries
Non-contact service (the driver might not be able to assist with unloading)
Follow guidance from driver on procedure for each delivery as there may be slight differences depending on items being delivered.