Terrain Soil & Waste
SBS have been working closely with Polypipe Terrain so the relationship in tu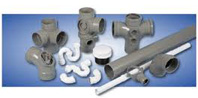 rn offers better service to our customers, which is now tangible with SBS being classed as a 'specialist' Terrain merchant. Terrain operates across commercial, residential, retail, multi-occupancy and public sector development projects with systems above & below ground. Terrain are uniquely able to support the design and installation of such systems:
Above Ground
Conventional soil & waste systems, alternatives to
traditional cast iron, chemically resistant, acoustic systems
Rainwater
Gravity & siphonic systems
UnderGround
Surface water drainage & sewerage systems
Our Terrain range offers many solutions with large stock levels within the 'soil and waste' range. The range is often in demand because of the small footprint of products giving space savings, ideal for pre-fabrication with a high quality finish. The innovative products of solvent, push-fit & waste solutions give many installers flexible options.
Advantages
• Solvent-welded & push-fit options for both soil & waste drainage
• Also available for use on rainwater systems
• Traps & WC pan connectors
Terrain Solvent Weld offers a great way to achieve a permanent joint, and is a complete and comprehensive system with flexibility for design using the Terrain unique fittings. Terrain push-fit 'soil & waste' system gives a comprehensive range of socketed pipes and fittings for all designs. Along with soil & waste we supply a full range of Terrain which includes:
• Rainwater, underground, acoustic, Effast
• Polypress, rainwater harvesting, fuze
• Others upon request
Size: Soil: 82mm to 160mm
Waste: 32mm to 50mm
Overflow: 19mm
Connection: Solvent Weld, push-fit
Finish: Grey, black, white, rustic brown
Alongside the Terrain brand we also have access to Polypipe products if required along with their underfloor heating solutions.
For more information, click on the manufactures logo. You may need to disable 'pop up' blocker.