Aquatechnik
The WRAS approved Aquatechnik product is one of the safe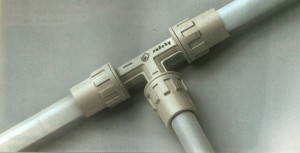 st and most reliable methods for the joining of multilayer pipes present in the marketplace worldwide. The main features of the safety system are: enlargement of the pipe head (coupling process) through a special tool. This process allows the user to put the fitting on the pipe in a simple & quick way offering the highest safety as the pipe is locked on the fitting by an anti-unscrewing cap which avoids any movement and, if necessary, can be unlocked and used again. The whole range of fittings (safety-pol) is completely made in PPSU, with polymer having a high thermo-mechanical resistance with long stability on continuous working conditions and added reliability.
Advanatages
• High resistance against impacts
• Higher flowing & less pressure drop
• Total safety in joining pipe to the fitting
• Quick to install
• Possibility to unlock the fittings & to use them again
• Resistant to lime, cement, plaster, phenomena of electro-chemical aggression
• Complete compatibility to cold & warm drinking fluids
• Low costs & cheap processing tools
• Less processing waste thanks to the reutilisation of the fittings
Fields of Application
The safety system with the multi-calor pipe can be used in
all plants for civil house bulding:
• Conveyance nets & sanitation (rising pipes, interception collectors, traditional conveyance)
• Thermal stations, power to thermal appliances, traditional central heating with modular collectors for the distribution to the heating & conditioning devices, & so on…
• Conditioning & climatisation plants
• Heating & cooling panel plants
• Greenhouse & garden irrigation, nebulizing plants
Size: 16mm to 75mm
Connection: Flared compression
Temperature: Up to 95°C
Pressure: Up to 10bar
Finish: White
Lengths: Coiled (no memory) & straight lengths
For more information, click on the manufactures logo. You may need to disable 'pop up' blocker.