Pegler Yorkshire
Pegler Yorkshire has been a major force in valves and fittings for over 100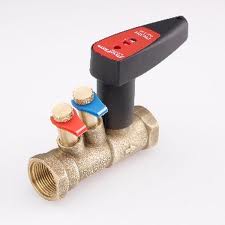 years and their commercial valves package for the HVAC market is built upon the unique strengths in design and manufacture accumulated over this period. Pegler Yorkshire has pioneered the market by introducing both press & push fit end connections, offering significant installed cost savings. They are dedicated to designing, developing and manufacturing products of the highest quality. Their products, where applicable, comply with the relevant British, European and International standards. Whatever the latest developments, they guarantee that the products will always meet the latest and highest standards.
Product Range
Gate, commissioning, globe, check, butterfly, quarter turn ball valves, strainers,
ballomax, ballofix, thermal circulation valves
Size: 1/4" to 12"
Connection: Press-fit, push-fit, threaded, compression and flanged
Temperature: -40°C to 165°C
Pressure: Up to 40bar (often dependent on size)
Finish: Brass, plastic, cast iron, stainless, bronze, DZR
For more information, click on the manufactures logo. You may need to disable 'pop up' blocker.