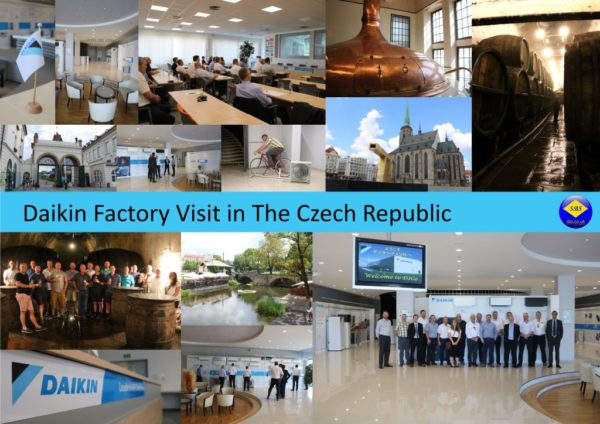 Daikin Trip
Smith Brothers Stores earlier this year in July invited both customers and staff to visit Daikin factory based at Pilzen in the Czech Republic. This allowed the attendees to understand and learn more about the production of indoor and outdoor air conditioning units. Being one of only six wholesalers which distribute Daikin products, along with our impressive stock levels, it was a great opportunity for all to see first-hand the production facilities. The group of people in attendance included customers from our Leicester, Northampton and Heathrow branches along with Daikin and Smith Brothers staff members.
The Wednesday to Friday trip was mainly based around the factory visit with adequate time to digest information received from both visual and classroom presentations. The travelling allowed the group to socialise and do introductions before any of the formalities commenced.
During the visit to the Daikin facilities the group learnt about the company's key values along with the history of the business, specifically this factory, which started production back in 2004. A presentation contained a brief overview of the indoor and outdoor air conditioning range which they manufacture on site.
After the presentation, the group had a guided tour around the factory to look at the production line and understand just how much detail is put into each work station when making Daikin products. The group were able to observe the staff members at work and ask any questions they may have. Seeing such production close up gives the individuals great opportunity to see how Daikin's impressive product claims and benefits are justified. If there were any questions still needed to be answered, people were able to ask them to the on-site and off-site Daikin staff after the guided tour.
Once tour was completed the group attended a brewery tour where they found out how Pilsner Urquell is produced and if wanted, tasted the freshly brewed beer. The trip also allowed everyone a degree of free time so they had chance to explore the beautiful city of Pilsner.
Justin Gardner, Smith Brothers Daikin Technical Manager, said "The trip was very successful with a really good mix of contractors from different areas of the UK. It was good to see the production of Daikin Splits was up to a similarly high standard as the larger SkyAir and VRV products which are manufactured in Belgium. The relaxed itinerary and free time allowed for everyone to explore the town and share stories which was enjoyable."