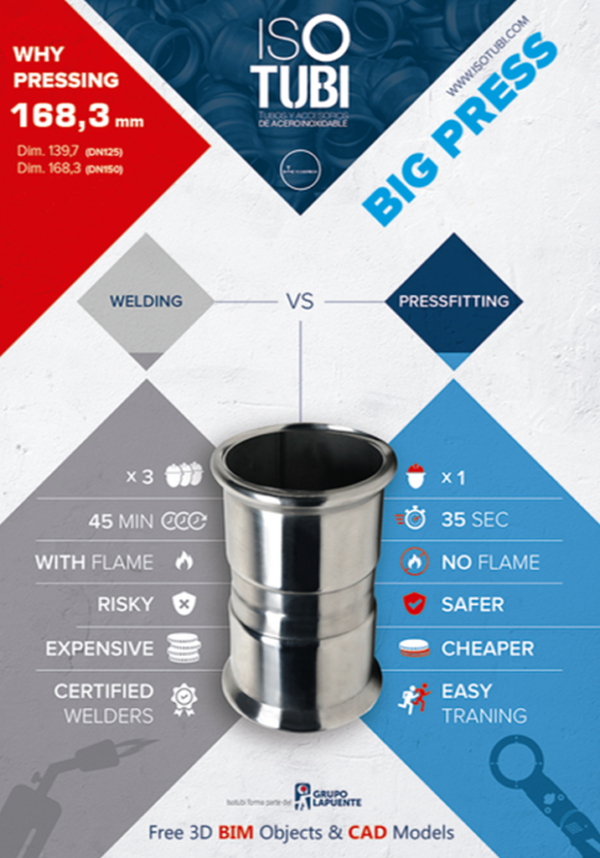 Isotubi welcome GAS to the family
Smith Brothers are delighted to announce that the Isotubi Stainless Steel Press-Fit System is now available in XL sizes with full BSI approval for Gas
The Isotubi range of Stainless Steel 316 fittings, which extends to 139.7 and 168.3mm sizes, has now been fully BSI approved for Gas Installations, meeting the Standards of prEN 10352:2010 (Kitemark No 672498).
This is a huge leap forward for gas installation projects by enabling the quick and simple press-fit jointing process to be utilised at diameters previously unattainable with this type of system.
With the ever increasing site restrictions with hot works and the associated challenges of H&S and CDM compliance, the Isotubi XL system provides a cost effective and simple solution in today`s construction workplace.
With its lighter weight, reduced handling and support requirements, allied to the speed of installation of the simple two step press process, installation times and cost savings can be significant against traditional methods and material solutions.
Founded back in 1985 and based in Barcelona, Isotubi has more than 30 years experience in the manufacturing of stainless steel pipe system products, producing in excess of 3 million fittings annually. The result of this experience and expertise ensure Isotubi can be trusted to offer a competitive product meeting highest quality standards across worldwide.
If you would like to know more about this exclusive stainless press-fit range of product, information can be found at:
Further technical information or assistance can be available at your local branch, contacting your allocated ASM or emailing: newsletter@sbs.co.uk