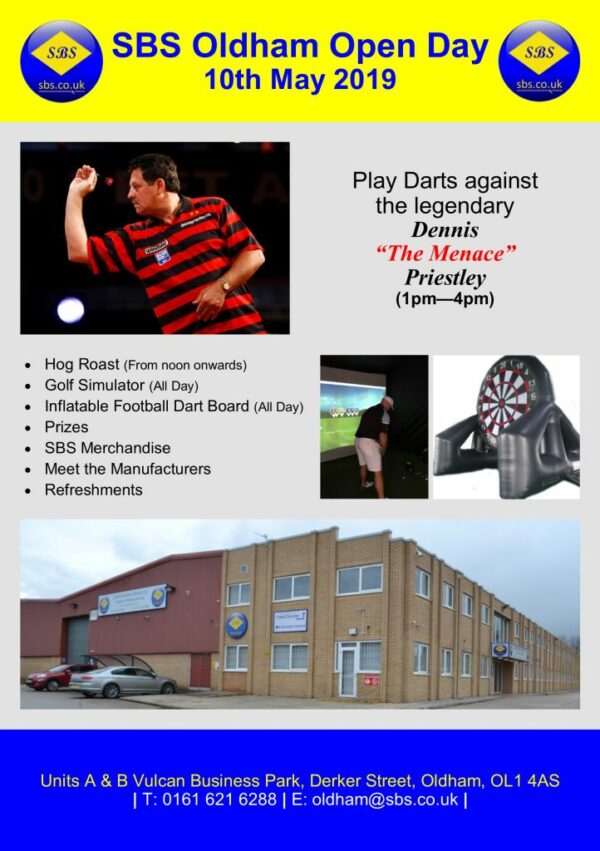 Oldham's open day on 10th May
Smith Brothers Oldham are inviting customers to their open day to celebrate the official relocation of the branch. The event will start from 8am on Friday 10th May located on Vulcan Business Park. If you would like to attend, please feel free to join us and you can contact an Oldham representative for more information.
At the event, you will be able to challenge and play against the legendary Darts player Dennis "The Menace" Priestly. In 1991 and 1994 he was the world champion and he was a runner up in the years of 1996, 1997, 1998 and 2000. Other activities include a golf simulator and inflatable darts board where you will be able to compete against each other and win prizes. You have the opportunity to meet and socialise with the Oldham staff, along with key suppliers/manufacturers connected to the industry. There will be Smith Brothers merchandise available to pick up on the day and hog roast if you are feeling hungry during your visit.
Oldham have been opened since 2006 to service the Lancashire and North West area. After 13 years being based at the same premises, Oldham needed to expand and grow their warehouse space, so they can increase their stock level potential. This led to Oldham moving into a new premise in January 2019, meaning that they can offer a better service to their customers.
All branches, including Oldham are encouraged to follow the SBS promise of Stock, Service and Staff, meaning that with the relocation, the branch can better offer these benefits to the customers.
This is the latest relocation in a long line with Leicester, Head Office, Bristol and Birmingham all moving to larger and more modern premises, after growing out of their current facilities.
David Wildman the branch SBS Director said "'I am delighted that our new 40,000 sq. ft. warehouse and offices, will allow us to carry even more stock, which will enable us to continue growing what is already a very successful SBS branch."
Oldham Branch Manager, Chris Finn said ""By moving to our new, bigger and better premises, we are best placed to improve on the already high standards we set ourselves, to give our customers' a premium level of service beyond their expectations."