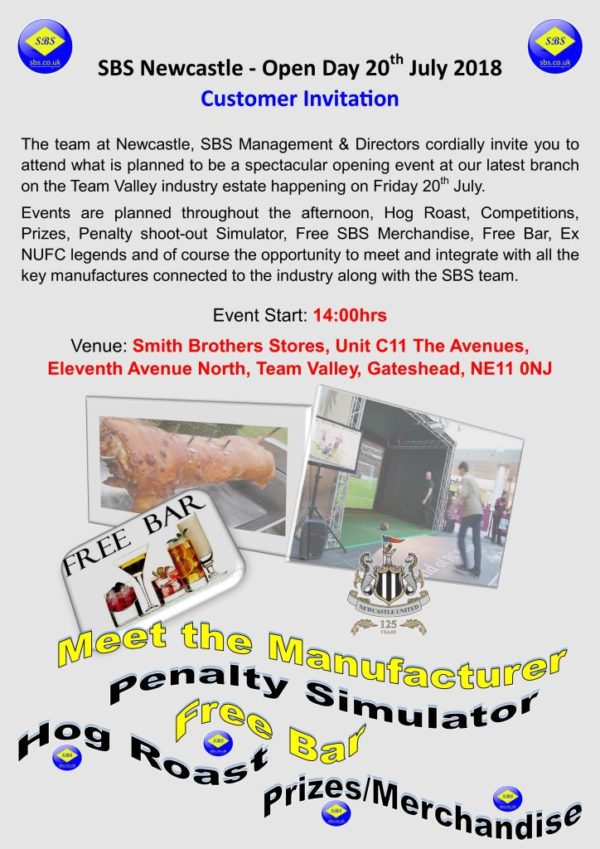 SBS Newcastle call all CUSTOMERS
Smith Brothers Newcastle are inviting customers to their open day celebrating the official opening of the branch. The event will start from 2pm on Friday 20th July located on the Team Valley Industrial Estate. If you would like to attend please feel free to join us and you can contact a Newcastle representative for more information.
At the event there will be a hog roast, competitions on a penalty shootout simulator where you will be able to win prizes, free SBS merchandise and a free bar. You have the opportunity meet and socialise with the Newcastle employees along with key suppliers/manufacturers connected to the industry. The branch hope to also have a Q&A session with a former NUFC player. We will obviously announce the golden boot winner after the shootout tournament.
The branch was officially open from March and is a part of a 14-depot network across England and Wales, which includes a Head Office based in Blaby, Leicestershire. The branch provides the HVAC industry with Service and Value, which has been the company ethos since 1897. With experience and vast warehouse space it can also boast it follows the standards set in the SBS promise; Stock, Service & Staff.
Currently, we are happy with the success of the branch which has already exceeded budget expectations, which gives great foundations for them to grow and continue expanding within the HVAC market.
Martin Denton the branch SBS Director said, "Opening the branch in Newcastle has been one of the highlights for SBS in 2018, the branch has already firmly established itself in the region and is going from strength to strength. It will be great to welcome both customers and suppliers to our open day and show off what is a very impressive operation."
Brian Smith the newly appointed Newcastle Branch manager stated "I am really proud of what has been achieved in such a short space of time setting up the new branch of Smith Brothers Stores. All the team are really looking forward to showcasing the branch to our customers on Friday 20th July, whilst having a fun afternoon along the way."