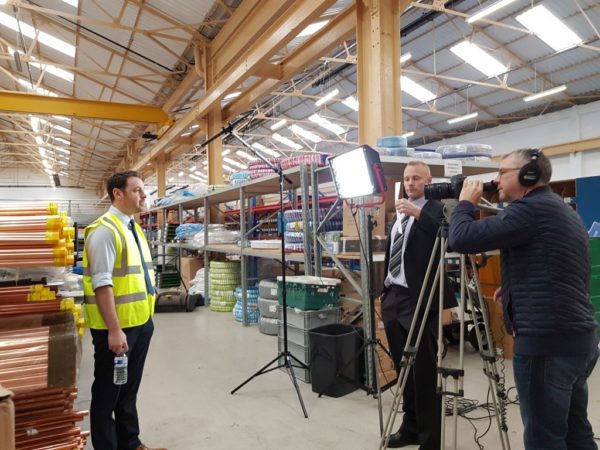 SBS Video
Find out more about SBS with our brand new video which demonstrates the day-to-day operation of Smith Brothers Stores. There are two versions, a long video lasting three minutes giving a full insight and a shorter version of around 30 seconds summarising our business. These can be accessed via our website, social media channels or the link below:
Making of the Video:
The video was shot at our Bristol branch which is around 30,000 sq ft located on Feeder Road which forms part of our 14 depots based across England and Wales. The day of filming was structured so we could get as much information about the business as possible. We did interviews with both our Directors and the Branch Manager. Our main aim was to give customers an insight in to the daily operations of a branch, our heritage and the SBS Promise; Stock, Service & Staff.
Daily Operations:
Showcasing a typical order journey was important as we want our customers to know how important we take each stage of the process. An order can start many ways, at the Trade Counter, over the phone, electronically or even old-fashioned fax. Once items are confirmed a ticket is then printed for items to be picked which can be collected or delivered direct to site/offices. As Smith Brothers continues to grow we are constantly looking for ways to improve our service whether it be better fleet of vehicles or larger stock range to only name a couple.
Heritage:
As our slogan states 'Service & Value since…1897', we wanted to show the heritage of the business. As 4th generation Smith's are both the Managing Director and Sales Director of the company, it was easy to get this message across direct from the men themselves. We also had photos of the original offices (1902-2016) at Batten Street and our founder Walter Smith, which can be seen at the start of the video.
SBS Promise:
By filming at branches on a normal business day meant we could showcase our promise of Stock, Service and Staff. We were keen to not simply 'set-up' staged scenes, being true to the real aspects of the industry. Therefore, the staff and customers used you will potentially see and speak with if you visit SBS Bristol. It is not always easy to give a true sense of stock depth through a lens, however we hope some of the images did give you some understanding of the tube, valves, fittings, air conditioning and all associated ancillaries available. We also hope the interviews displayed how committed everyone is to the SBS cause along with being extremely knowledgeable, capable of delivering a quick and accurate service to all customers nationwide.