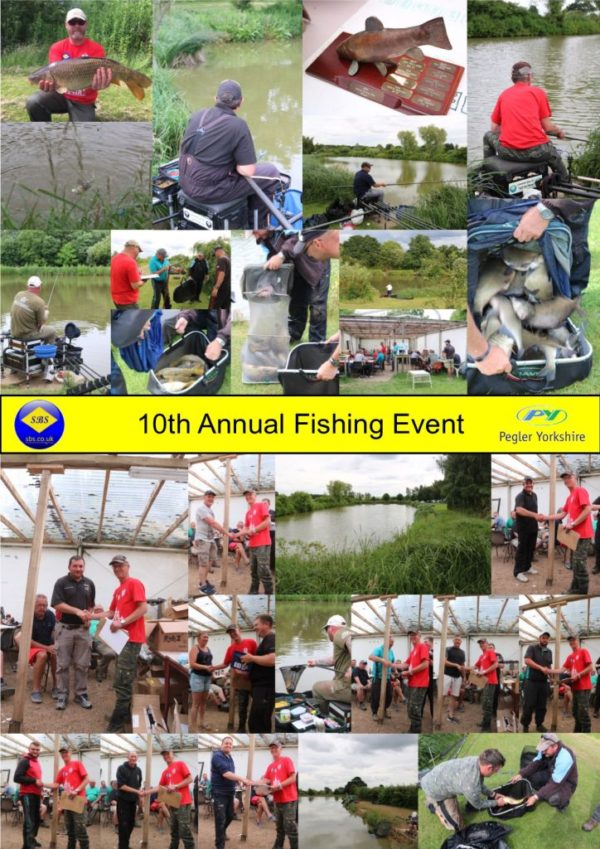 SBS 10th Annual Fishing event
Smith Brothers Stores held their annual fishing event for the 10th consecutive year on 15th June at Mallory Park Fisheries in Leicestershire with the support and sponsorship of Pegler Yorkshire. Over 80 people attended the event which were then spread over nine lakes in the glorious sunshine. Customers, staff and suppliers all gathered to socialise and compete against each other.
There were two types of fishing, 21 people did pleasure fishing and 55 took part in the competitive fishing, they needed to get the biggest weight within the allotted time. Overall 4,139 lb (1.9 Tonnes) of fish were caught, averaging to 75lb per person, as everyone weighed in.
After fishing, food and drink was available while the winners of each lake were calculated. Finally, the people who came third, second and first overall were announced during the presentation. The person who came third was Frank Vignali from Smith Brothers with them weighing in at 144lb, second place was Karl Lovell-Cotton from Pegler Yorkshire with the weight of 154lb 15oz and first place Simon Skelton from S&G Plumbing & Heating with the heaviest weight of 210lb 11oz. The winner will get to have their name engraved on the Smith Brothers famous fishing trophy. On the other end of the scale, Carl "No Carp" McShane from CPM Pipework Services came last with their catches of the day weighing in at 14lb 7oz.
Another award was presented to Mandy Dunham from Harrison's Electrical and Mechanical for succeeding her personal best, at the weight of 58lb 10oz.
The Mallory Park Fisheries has been described as one of the best in England, with seven of the lake receiving a gold accreditation from the fisheries accreditation scheme. The accreditation recognises standards in the both quality of fish and aspects of the environment.
Jeff Robertshaw, the organiser of the event and recently retired Joint Manager Director of Smith Brothers said "the SBS fishing day has become increasingly popular each year and as always is known for a great day out that everyone has, at such a fantastic fishery."
"This was our 10th year and we had a record breaking attendance this time around. I feel very privileged to be involved with the organisation of such a great day out!"
SBS are looking to host the event again next year as their customers and suppliers are already asking when the next fishing day will be. Ask your local branch for more details.