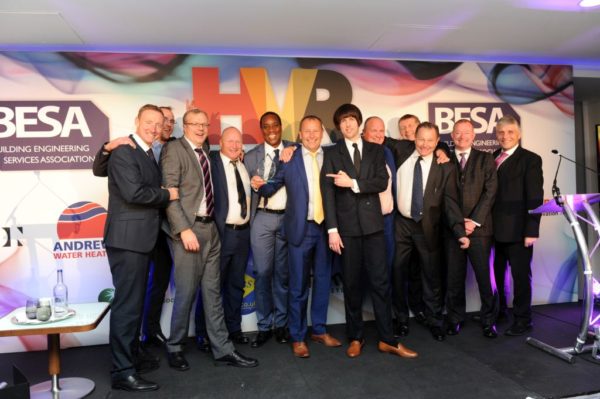 SBS join prestigious Hall of 'Flame'
The ninth annual HVR Awards took place at London's Chelsea Harbour Hotel on Thursday 25th October, and the very best from across the heating and ventilating sectors gathered to be a part of the scheme's biggest celebration to date.
Enthusiasm was high among the industry, particularly in respect of a number of new categories launched for the 2018 edition, as noted by HVR editor Heather Ramsden in the evening's opening speech: "We are always delighted to see the entries start rolling in but this year even our expectations were surpassed. I am so pleased so many of you have jumped at the chance to throw your hat in the ring."
The Wholesaler/Distributor of the Year award returned for its second year, where Smith Brothers Stores won the coveted accolade collecting the award from Neville Small, Business Development Director at Baxi Heating (Commercial). The award-winning comedian Tom Ward announced the shortlist which was sponsored by the Baxi group of companies which includes; Andrews Water Heaters, Potterton Commercial & Remeha. The ceremony was organised by Datateam, who manage the HVR magazine.
The voted category meant Smith Brothers had to count on the support of the industry, bringing customers and manufacturers together by voting on who they thought performed best in 2018. The company hoped the SBS promise of stock, service and staff throughout the 14-depot network was enough to stand out from the competition and receive the backing of all stakeholders. The voting period opened 6th August and ran for a month until 6th September 2018.
Steven Smith, Managing Director of Smith Brothers Stores attended the event and said, "We are extremely proud to be recognised by fellow piers and receive such reward for all our hard work in 2018. We remain committed to supporting both our staff and customers, maintaining our competitive advantage in the marketplace now, and beyond 2018."
The HVR Awards received the support of several industry heavyweights; headline sponsor Building Engineering Services Association (BESA), Albion Valves UK, Andrews Water Heaters, the HVAC & Refrigeration Show 2020, ICOM Energy Association, Remeha, SkillFRIDGE, Smith Brothers Stores, Toshiba and Wilo.
To find out more about the HVR Awards or to view the full gallery from the awards ceremony, visit: www.hvrawards.co.uk