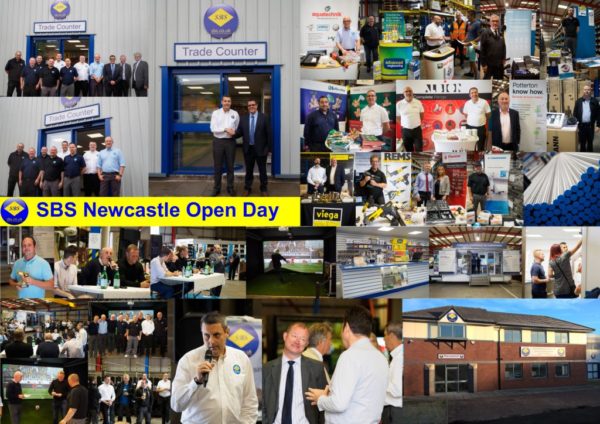 SBS Newcastle Open Day Highlights
Smith Brothers Newcastle held their open day on Friday 20th July. The event started at 2pm where customers, staff and suppliers congregated in the 22,000 sq ft premises located on the Team Valley industrial estate, to celebrate the official opening of the branch.
At the event, people were able to enjoy a hog roast, compete on a penalty shootout simulator where they could win a prize, receive free SBS merchandise and visit the free bar. The shootout winner was even rewarded with a golden boot trophy from special guest Steve Watson, former NUFC player and currently Gateshead F.C. Manager.
Newly appointed Branch Manager, Brian Smith and his team were presented with a cake from the SBS Directors to wish them good luck and a very successful future with the company. The new branch is already thriving, surpassing expectations and setting excellent foundations for the branch to expand and grow in the local north east area.
Customers and suppliers were able to talk to the newest staff members from the branch. SBS has always strived to treat members of staff like family, as every employee is vital in helping the business grow. It is widely accepted that the commitment and knowledge of the staff sets Smith Brothers apart from the competition. This is no different with the latest handpicked team assembled under Brian's leadership.
Thanks go to the suppliers who supported the event which included; Pegler Yorkshire, Albion Valves, Crane/Hattersley, Potterton/Andrews, Rems, Stelrad, Walraven, Viega, Tube Trade, Kaimann, Sauermann, Advanced Engineering, Flamco, Geldbach, Lowara, Rems Tools, MEP Hire Station, Lowara, Aquatechnik and Polypipe Terrain.
The Newcastle branch has been open since March this year and is a part of a 14 depot network throughout Wales and England. Since 1897, the company ethos is to provide the HVAC industry with service and value. As the company has been around for over 100 years, it can boast the following standards set in the SBS promise; Stock, Service and Staff.
After the event, Brian Smith said, "I have had a really fantastic and enjoyable day. Thank you to all our customers, and suppliers who attended the event. The suppliers were able to showcase their products and had a great day interacting with staff and customers alike. It was great to see some new faces on the day and they all seemed really impressed with the branch and stockholding. Our commitment to customer service and manufacturer relationships is key moving forward and we look forward to establishing a successful Smith Brothers Stores distributorship in the north east supply chain. I would like to send best wishes from all at Smith Brothers Newcastle to Steve Watson at Gateshead Football Club for the forthcoming season, let's hope this is their year for promotion into the football league."
SBS Director, Martin Denton said, "You never know what to expect at launch events such as this, they are very often hit or miss, I am very proud to confirm this one as a '100% hit'. It was wonderful to see such a good turnout and to see our staff interacting with our customers at the new branch in Newcastle, this is a huge testament to the team that Brian has assembled in the North East, clearly they are very well respected and liked.
Thank you to both the customers and suppliers who invested their time to be there on the day, I know we all have very busy schedules, so it was appreciated."
Find you local branch here: http://sbs.co.uk/branches/