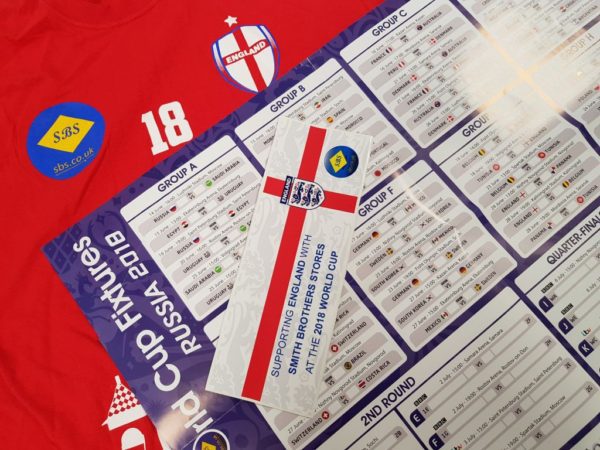 World Cup Giveaways!!
Football is coming home to Smith Brothers for the 2018 World Cup. If you don't fancy braving it over in Russia you can show your support for the England team by acquiring an SBS World Cup wallchart, T-Shirt and/or a sticker for your van. It is while stocks last at each branch and you can collect from now, the World Cup starts on 14th June. Along with being patriotic about England, the wallcharts allow you to monitor the progress of the national team, how far can they get? We have even decided to run a poll via our Twitter account to gauge the opinions of the industry.
To get you free World Cup merchandise either ask at the trade counter when you are visiting your local branch, talk to your local representative and/or lookout for any competitions via social media. We regret to inform you SBS Cardiff does not hold any merchandise as along with Gareth Bale, they have got the summer off football.
If you need access to our social media pages the Twitter handle is @SBS1897 or search for "Smith Brothers Stores Ltd" on LinkedIn. This way you will be able to keep up-to-date with the latest news and competitions at SBS.
This year's World Cup will be hosted in Russia between the dates of 14th June – 15th July. The England team is in Group G against Belgium, Tunisia and Panama. England's first match kicks off 18th June at 7pm against Tunisia. Let's hope England are on the ball and can qualify out the group, even causes a few surprises along the way.
When you enter the competitions via our social media, we will only accept one entry per person. Please be aware the giveaways will work on a first come, first serve basis, so be quick if you want to receive any merchandise.
COME ON ENGLAND!!