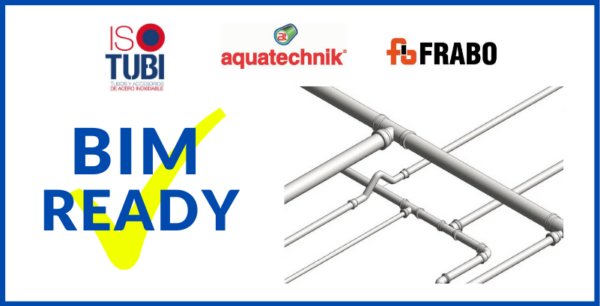 BIM ready suppliers Isotubi, Frabo and Aquatechnik exclusively available at SBS
The product ranges available from Isotubi, Frabo and Aquatechnik are available to download as BIM components, helping designers to plan future projects more efficiently, whilst also collating essential information for future building maintenance.
What is BIM?
Building Information Modelling is the successor to traditional 2D drawings, and more recently CAD (Computer Aided Design). This process allows multiple stakeholders and AEC (architecture, engineering, construction) professionals to collaborate on the planning, design, and construction of a building within one 3D model.
Through implementing BIM into their projects, contractors can cut down significantly on waste and reduce rework during construction. This ultimately results in an overall cost reduction along with boosting productivity on site.
A 6D BIM model is often delivered to the building's owner at the end of a project. This model is populated with relevant building component information such as product data, maintenance/operation manuals, cut sheet specifications, photos, warranty data, web links to product online sources, manufacturer information and contacts…etc… The benefit of this is to aid facility managers in the operation and future maintenance of a building.
Isotubi's NUMEPRESS System
Isotubi's stainless steel NUMEPRESS system is available in XXL sizes ranging from 15mm to 168.3mm and has a maximum working pressure of 16 bar.
With more than 40 years working with stainless steel tubes and fittings Isotubi offer a competitive range of products that are both BSi and WRAS approved, and are manufactured to meet EN10217-7 and EN10312 standards
Suitable applications include potable water, gas, heating, plumbing, solar, compressed air, steam, fire protection (sprinkler) and mining. The system comes with a 25-year warranty.
Before lockdown, SBS staff members and customers visited Isotubi's factory in Spain to learn more about their product range and production capabilities. Visitors in attendance took park in various product demonstrations, which including crimping a 168.3mm fitting.
Click to access Isotubi's BIM component library.
Frabo – Experience, Innovation and Passion
Founded in 1969, Frabo is a leading manufacturer of M profile press, solder, compression and threaded fittings, typically used in plumbing installations.
Frabo's range of fittings are made of copper, stainless steel, carbon, brass and bronze and are suitable for various applications such as: water, heating and cooling, gas, solar, fire and more.
The SECURFRABO press fitting range is available in sizes between 12mm – 54mm. This patented system comes with the security of immediately identifying any un-pressed fittings during a leakage test.
Frabo's product catalogue consist of over 5,000 ISO 9001 certified items and their production plant in Italy manufactures and distributes over 60 million units around the world each year.
Click to access Frabo's BIM component library.
Link to Frabo's BIM demonstration.
Aquatechnik are also BIM ready
Last year, we reported how Aquatechnik (also exclusively available at Smith Brothers) had also made their patented MLCP system available as BIM components.
The WRAS approved system utilises a simple flaring tool to expand the pipe, which allows easy fitting without decreasing the flow rate of the pipe.
Link to Aquatechnik product and features.
Available in sizes 12mm to 75mm, the system has a working pressure up to 10 bar and a maximum working temperature of 95°C. It can also be demounted, reused and has a 25-year warranty.
Click to access Aquatechnik's BIM component library.
For more information
Our website and literature contain further information, but you can also contact your local branch or SBS representative if required. We have a contact us page on our website failing the options above.