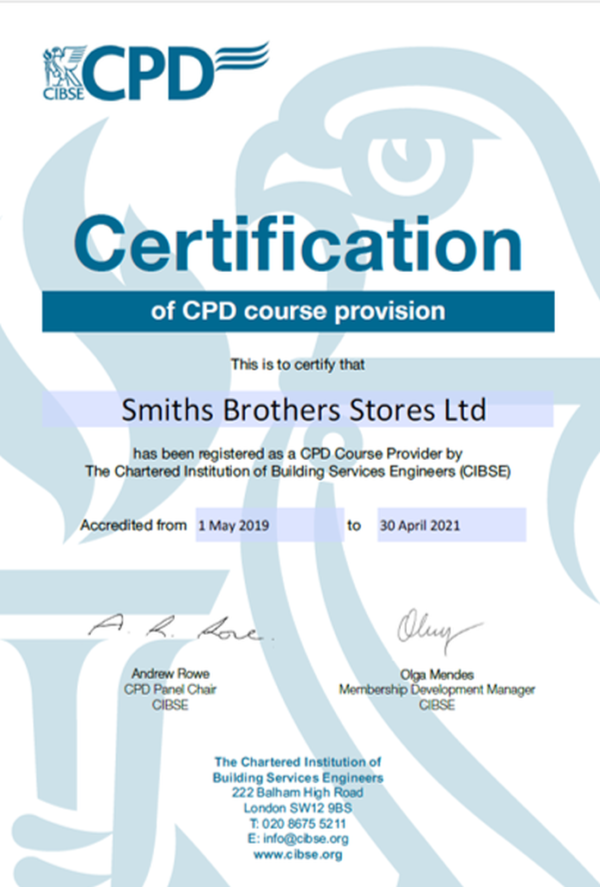 CPD courses available at SBS
Good news if you are a Mechanical Design Engineer, Consultant or Specifier. Smith Brothers Stores (SBS) have renewed their association with the professional body CIBSE, to offer CPD courses.
What is a CPD course?
CPD stands for continuing professional development, which is used to describe learning activities a business can use to develop and enhance their staff knowledge.
A CPD course could be training workshops, conferences, events, e-learning programs, best practice techniques and ideas sharing. These are all focused for an individual to increase professional development.
What will I learn?
On the hour-long course there will be an introduction to multi-layer composite pipes (MLCP), covering the technology, benefits, advantages and considerations for application in the building services environment. Demonstrations will take place where installation and jointing the Aquatechnik products are showcased.
How much does it cost and where can it take place?
The course will be free of charge to the business and can be held at a location of your choice, this can include taking place at your offices if you desire.
What is Aquatechnik?
The Aquatechnik Safety System is a Multilayer Pipe System and is exclusive to Smith Brothers Stores. The system is available in pipe sizes from 16mm to 90mm and is suitable for a wide range of applications such as the distribution of Hot & Cold Potable Water, Heating and Chilled Water Systems and even Compressed Air Installations.
The system is approved to EN21003 Standards and is fully WRAS approved with a 25 Year Warranty.
Aquatechnik have recently launched the products on a BIM (Building Information Modelling) system, which enables Engineers & Designers at the development stages to understand which components are required for a project. BIM also allows a visualisation as to how the system will look and how the products will integrate within the wider project structure. If you want to find out more information, please click below:
A recent installation example of the Aquatechnik system is the Buxton Crescent Hotel and Thermal Spa which is currently undergoing a major renovation. If you would like to read more information on this project, please click below:
Buxton Crescent Hotel & Thermal Spa
How do I sign up?
If you would like more information about the course, please contact your local branch, your allocated ASM or email: newsletter@sbs.co.uk