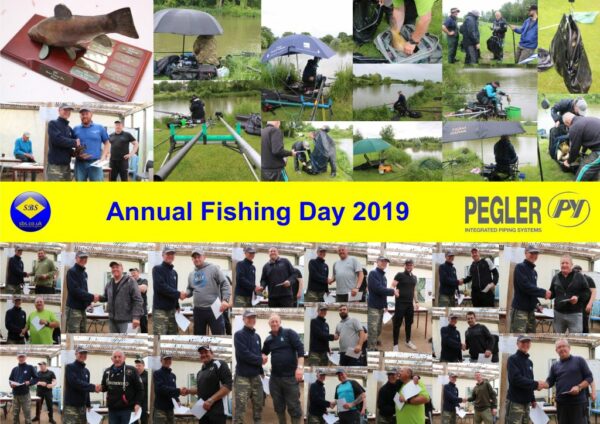 SBS 11th Annual Fishing Event
Smith Brothers welcomed over 60 people to their annual fishing event for the 11th consecutive year on 14th June at Mallory Park Fisheries in Leicestershire. The event was supported and sponsored by Pegler Yorkshire. Customers, staff and suppliers from Leicester, Northampton, Birmingham and Leeds branch, were split and spread over nine lakes in the drizzly weather. The attendees could socialise, and the match fishers competed against each other during the day.
During the day there were two types of competitions, 21 people took part in pleasure fishing and 55 contended in the competitive match fishing. The competitive anglers needed to get the biggest weight within the allotted time. Overall 3,182lb (1.4 Tonnes) of fish were caught, which is 957lb (0.5 Tonnes) lighter than last year. The calculated average weight per person is 70lb, 5lb lighter that last year.
After fishing, the dedicated anglers had food and drink while the winners of each lake were calculated. After, the results were in with the winners could be announced of who came third, second and first during the presentation by Jeff Robertshaw and Steve Jackson.
The person who came third was Lee Sutton from WM Building Services weighing in at 159lb 10oz, second place went to Joe Oakes from Lockhurst Kitchens with the weight of 169lb 14oz. The first place went to Carl Hulley from Dunchurch Services with the heaviest weight of 185lb 11oz. The winner as always will get to have their name engraved in history on the Smith Brothers famous fishing trophy.
On the other end of the scale, Stan Freeman from Measham Heating had the lowest weight with their catches of the day weighing in at 23lb 13oz, however three anglers decided not to weigh-in.
The best silvers fish prizes (where the big carp does not count) was awarded to Jon "well-done Jon" Pollard of Arthur Pollard Ltd who came in at second place with 44lb 9oz, and the first prize was awarded to Joe Oakes again weighing in at 52lb 14oz.
The Mallory Park Fisheries has been described as one of the best in England, with seven of the lakes receiving a gold accreditation from the fisheries accreditation scheme. The accreditation recognises standards in the both quality of fish and aspects of the environment.
Jeff Robertshaw, the organiser of the event and retired Joint Manager Director of Smith Brothers said; "Even though it was a bit soggy, I think everyone enjoyed the day and I have had lots of feedback to say what a great day it was… despite the weather!!"