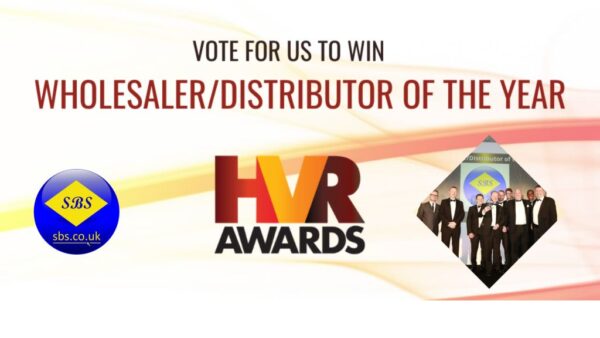 SBS Shortlisted for the fourth consecutive year at HVR Awards 2020
For the fourth consecutive year, Smith Brothers Stores have been shortlisted for The Wholesaler/Distributor of the Year category award at the eleventh annual HVR Awards 2020.
After being a runner up in 2017, SBS was proud to win the award in 2018, entering the prestigious 'Hall of Flame' for the very first time. Smith Brothers also retained the award in 2019 which capped off a very successful year for the business, which also saw the successful relocation's of our Birmingham, Rainham and Oldham branches.
The HVR Awards are going digital
Due to the Covid-19 pandemic, the awards will take place digitally this year on the 15th of October starting at 4:00pm. The event, organised by Datateam, is open for anybody to watch via The HVR Awards 2020 website and is sponsored by BESA, NAAD, Skill Fridge, Stelrad and SBS.
The Wholesaler/Distributor of the Year award
The award is open to all heating and ventilating wholesalers or distributors operating within the UK. For the purposes of this Award, a wholesaler is defined as a company offering a wide range of products in the form of a 'one-stop-shop' for the heating and ventilating engineer. A distributor will be an independent company looking after the sales and distribution of one or more companies' products.
This year's awards evening consists of 10 categories. Nine of which, the winner will be decided by industry experts and the wholesaler/distributor of the year award will be determined by a voting system. So, we need your support.
Vote for Smith Brothers Stores
To win the award for the third consecutive year would be a fantastic achievement for the business whose staff continually strive to offer customers the very best service.
We're extremely proud of our staff members, who throughout the Covid-19 pandemic, quickly adapted to new ways of working and adopted measures to ensure the safety of both colleagues and customers as the business remained open to support supply to critical sectors during lockdown.
Click here for more information on Smith Brothers Stores and why we feel we should be considered as a leading candidate for this year's Wholesaler/Distributor of the Year award.
Click here to vote now! Voting closes on the 18th September.