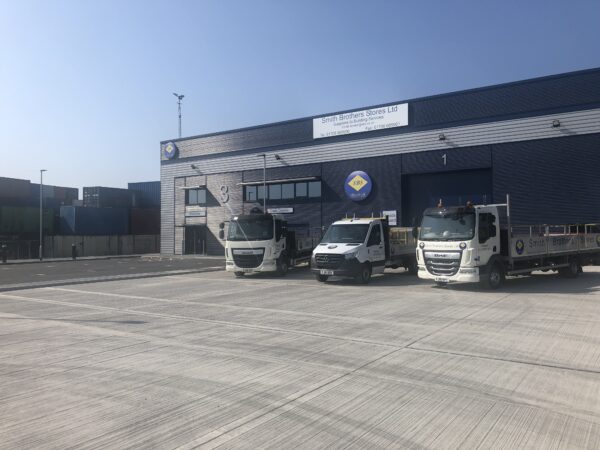 SBS Thurrock relocates to Rainham
SBS Thurrock is relocating on the 24th June, to Rainham in Essex. Meaning that as well as a new address, they will have a new name of SBS Rainham (London East). After 10 years of servicing the London area, the business was out growing the current unit, suggesting that they have needed this move for a while. This will allow the branch to provide the quality of service and hold a vast amount of stock that SBS boast about.
Since 2009, the branch has significantly made an impact for Smith Brothers as it is one of best performing branches in the 14-depot network. There are five notable changes, the relocation of the branch, budget, number of staff, vehicle fleet, and their secret to success.
Relocation:
The new unit located in Avocet Park, Rainham covers over 35,000 sq. ft. This allows the branch to hold greater stock levels which will no doubt help the branch meet customer requirements. The modern larger unit will ensure the branch can service the growth experienced in the 10 years. It is perfect for trade counter collections and customers heading into Central London.
Budget:
When Thurrock started out 10 years ago, the budget was £2.6 million and this year the budget is now surpassing £17 million. Showing an increase of over 575% in just 10 years, which shows the reason as to why they need to move.
Members of Staff:
The branch first started with seven members of staff and now employs 34 people. Just focusing on the number of Area Sales Managers, in 2009 they had two people in the team and this has now grown to six members.
At the branch career development is important, with examples of staff starting their SBS careers within the Warehouse and are now working successfully in internal sales.
The Branch Manager is also an example of someone who has progressed within the business, as he took the role in 2016.
Since 2009, the branch has developed an Air Conditioning and Ancillary department, showcasing the importance of having specialist people within a branch.
Fleet:
Rainham's ever growing fleet started with two and has now increased to 11 vehicles. This is to offer a better quality of service to the London area, by providing better efficiency and on time delivery.
The fleet is now Silver FORS accredited which was awarded back in 2015, since upgrading from the bronze. Overall SBS has held the accreditation for six years. The award is granted all company vehicles usually compromising of LGV's, 3.5T flatbeds and small box vans. All our vehicles hold the status, meaning that when you place a delivery from one of our 14 depots located in England and Wales, you know that they meet the high standards set by the scheme.