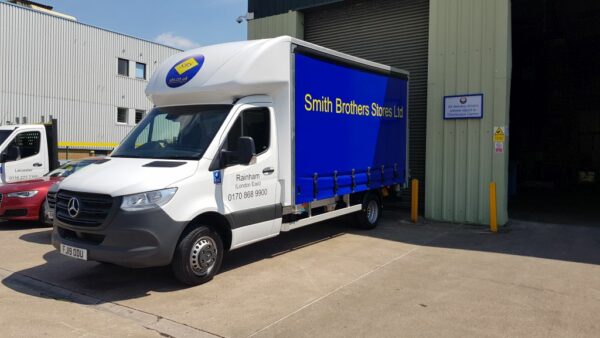 Silver FORS Award 2019
Smith Brothers have achieved the silver FORS (Fleet Operator Recognition Scheme) accreditation for the fourth year running since upgrading from bronze. Overall SBS has held the accreditation for seven years. The award is granted to our wide fleet of vehicles and all the vehicles hold the status, meaning that when you place a delivery from one of our branches located across England and Wales, they meet the high standards set by the scheme.
The fleet compromises of 12T, 7.5T and 3.5T flatbeds along with new 5T curtain sided lorry. The curtain sider is the newest member and currently services the recently relocated branch, Rainham (London East). Hot of the press is the news that the business has also placed its first order of a 18T lorry which will be arriving October 2019.
Smith Brothers fleet is constantly increasing as 9 vehicles have been added in just the last year alone. This takes the total number of vehicles to 84 that service the 15-depot network, which includes the head office in Blaby, Leicestershire.
No secret has ever been made that our vision since the company was founded was to offer value through service, and this accreditation goes a long to justifying such approach. Our staff will see the greatest impact as they must gain the required knowledge and skills to meet standards which are focused around improving road safety, reducing the risk of collisions and vulnerable road users.
The scheme is a voluntary accreditation for vehicle fleets such as buses, coaches, vans and trucks. The objectives aren't just to improve vehicle safety, focus is also given to vehicle efficiency along with environmental protection. The award helps demonstrate to our customers and supply chain our commitment to exceeding the industry standard regarding the SBS vehicle fleet.
With our fleet of vehicles we continually focus on reducing our CO2 emissions, making where possible vehicles conform to both the 'low emission zone' and 'ultra low emission zone' administered by Transport for London, and expanding to other major cities such as Leeds and Birmingham in 2020.
For more information about our green initiatives, please visit the link: https://sbs.co.uk/sbs-news/sbs-going-green/
Look out for the FORS sticker when you next see an SBS vehicle.