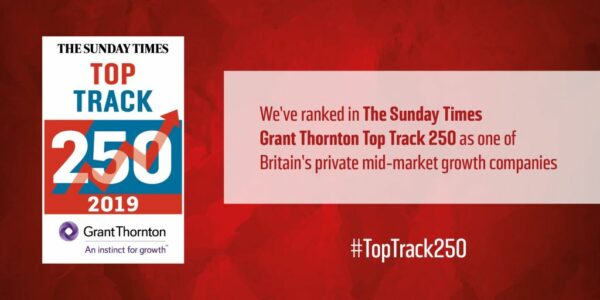 Sunday Times Grant Thornton Top Track 250
For the first time ever, Smith Brothers (Leicester) Ltd have been included in the prestigious 15th Annual Sunday Times Grant Thornton Top Track 250 at the position of 232. This shows the significant growth the company has made in recent years, being classed as one of the biggest private companies within the UK. To receive inclusion in the list, the business had to meet the criteria list set, which included a minimum growth of 5% from the previous year.
Out of the 250 companies featured, 130 businesses were previously included in the 2018 list, meaning Smith Brothers were one of the 120 companies who were added this year.
Sales
Top Track 250 combined sales in 2018 were £54.8 billion which increased to £63.3 billion this year, an increase of over 15%. Smith Brothers Stores finished their trading year at the end of September recording £116+ million sales, 11% growth, out of the group's total turnover of £124.5 million. SBL, like 48% of the other companies, was in the 'less than £200 million' bracket for sales.
Profits
Total combined profits in the report, like sales, saw a noticeable improvement with the analysis highlighting £5.9 billion in 2019 from £4.9 billion in 2018 previously. Nearly two thirds (152) of companies listed increased their margins, which including Smith Brothers who increased by 4% from the previous year. SBL, like 72 other companies, featured in the '10 – 20 million' bracket for profits highlighting the impressive sustainable growth the business is making.
Staff
One area the business is often keen to highlight is our staff, openly stating it is one of our USP's. With the group employing around 450 staff members, around 350 located at Smith Brothers Stores, we like a third of the companies fall within '1 – 500 members of staff' employed.
Ownership
The publication highlights how the business remains totally 100% family owned since being founded back in 1897. The family has fifth generation members present within its work force operating at various locations and job roles within the business. Pleasing to hear, Smith Brothers are a part of 67 other companies (26.8%) which are family owned. The head office, located since foundation in Leicester, is the same as 34 other companies, with Smith Brothers core roots originating from the Midlands.
Congratulations
It is important we recognise others within the industry, which is why it is so great to see the inclusion of customers and suppliers alike – congratulations!!
Customers
16. NG Bailey – Founded in 1921, West Yorkshire-based NG Bailey provides mechanical and electrical engineering services, as well as facilities management. Chief executive David Hurcomb, 55, oversaw a 16% rise in sales to £555.7m in 2019.
89. Ardmore – Brothers and joint managing directors Patrick, 64, and Cormac Byrne, 68, started this London-based builder in 1974. It now specialises in developments combining residential, retail, industrial and commercial projects. It completed a number of significant projects during the year, which lifted profits 26% to £25.8m.
112. Briggs & Forrester Group – Established in 1947 and based in Northampton, the company operates in sectors that include residential, commercial and education. Projects for clients including Jaguar Land Rover, Dyson and Kier Group helped sales rise by almost a quarter last year to £222.4m, under chairman Mike Stanton, 65.
170. Lindum Group – Named after the Roman word for Lincoln and founded by engineer John Chambers in 1956, this construction firm also has offices in Peterborough and York. The company is 46% owned by its workforce — 406 of its 660 employees are shareholders, and all have the opportunity to buy shares in the group.
183. Vital Energi – Founded in 2000 by joint managing director Gary Fielding, 63, this Blackburn-based business provides energy-efficient power and heating systems for public and private sector customers.
186. Mount Anvil – With its own in-house construction arm, this business is a builder, designer and developer working in the London residential market. The firm was founded in 1991 by chief executive Killian Hurley, 61, who has outlined plans to begin building almost 3,000 new homes by March 2021.
Suppliers
66. Encon – Founded in 1981 and with its headquarters in West Yorkshire, Encon distributes thermal and acoustic insulation, fire protection and roofing materials from 22 warehouses. Recent projects include supplying insulation for the restoration of a classic 1930s superyacht.
194. Lawton Tubes – This fourth-generation family firm makes and distributes copper tubes used in a wide range of applications, from supplying medical gas in hospitals to engineering at whisky distilleries and even plumbing at the Houses of Parliament.
Top Five
| | | | | |
| --- | --- | --- | --- | --- |
| Position | Company | Sales (£ million) | Operating Profit (£ million) | Staff |
| 1 | Holland & Barrett | 697.3 | 110.7 | 7,288 |
| 2 | Travelodge | 693.3 | 61.3 | 7,210 |
| 3 | IM Group | 661.8 | 82.5 | 530 |
| 4 | Turner & Townsend | 660.9 | 152.8 | 2,684 |
| 5 | BGL Group | 639.9 | 53.1 | 6,105 |
Key Themes
Many top-performing private companies in the Top Track 250 are looking beyond the UK for growth, more than half the companies trade overseas. On average, these companies grew international sales by 19% in their latest year. While these companies say they have not yet seen any significant impact from the Brexit vote, they expect to do so in the future.
Although London still has the highest portion of HQ locations the report has highlighted regional development with the northeast growing over the last year. The location shift is linked to the investment in technology software as firms become increasingly web focused.
Smith Brothers Growth
Smith Brothers (Leicester) Ltd have been growing at a sustainable rate since the millennium and even with Brexit uncertainty, the business has still been experiencing growth. Within 2019, three branches within the network relocated to larger premises bringing greater operational output in key locations at Birmingham (Smethwick), Manchester (Oldham) and London (Rainham). The company also opened a tube distribution centre taking our total depot locations to 15.
The growth hasn't just been highlighted by Sunday Times Grant Thornton Top Track 250, the business also featured in the Top 10 of the Leading Lights Supplement produced by Builders Merchants' News and reached 51st in the Top 200 Companies in Leicestershire.
What's Next?
Forecasts for 2020 are for more growth within the group. Focusing solely on Smith Brothers Stores, there might be another location which sees the blue and yellow SBS logo, either way the success of Smith Brothers shows no signs of slowing down soon.