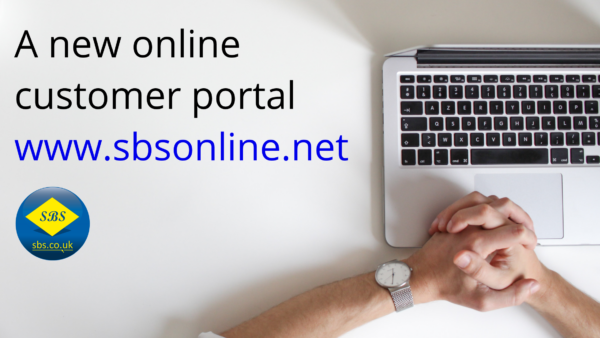 A new online customer portal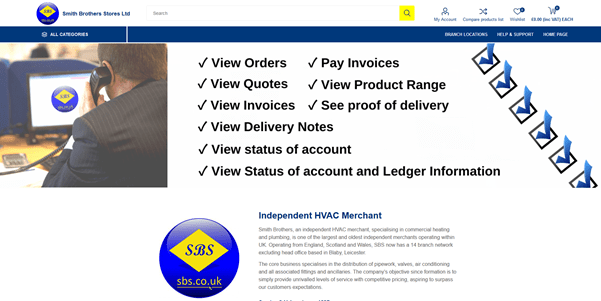 Smith Brothers are delighted to introduce our exclusive online customer portal (phase one) for existing customers. An additional service designed to provide an easier business experience for our customers than ever before.
We don't want anyone worrying, nothing is changing regarding the way we do business, SBS just want customers to have greater access to their information 24/7!! Rather than searching through your emails or post, this online filing cabinet simply stores your information in a logical way to view when it is most convenient.
If you have an existing account with Smith Brothers and want access to the Portal, complete the form available here.
Phase One
With the introduction of phase one, customers have the option to view several aspects of their account. They even have the option for multiple users within their organisation to view the information. The content displayed depends on the profile setting approved on the account, there are four available; Accounts, Order History, Ordering & Full Access – details of these profiles are listed below. Therefore, managing your trading account online is now available with a few clicks of a button, features include;
View/Print/Download Orders (both shipped & Active (unpicked))
View/Print/Download Quotes (both ordered & active (unordered))
View/Print/Download Delivery notes (including POD's)
View/Print/Download Invoices & Credit Notes
Pay Outstanding Invoices
Viewing Product Information
View Status of Account (including current balance & back order totals)
View your Account Ledger Information
In essence, phase one isn't doing anything new other than giving access to information whatever hour of the day it is required, rather than potentially waiting for business hours to obtain such information. Hopefully the service will save valuable time and has customer convenience at the heart of the operation. Should you have any questions, our dedicated and knowledgeable members of staff are still on-hand to assist with any account queries as normal.
Phase one is just the beginning, the portal is subject to an extensive development roadmap with new and exciting features set to be introduced throughout 2022, such as:
Quotes
Currently 'shipped', 'part-shipped' and 'active' (unordered) quotes are viewable. Our objective is to make this feature interactive so if you spot any active quotes which should be ordered or need amending, you can notify us at whatever hour of the day suits you. Action would then be taken during usual business hours with the aim to reduce lead times and help SBS provide the best service we can.
Ordering
Currently you are able to view our product range online and see if item is in stock companywide, however the business has aspirations for customers to be able to place orders at whatever the time of the day, even outside our current operational hours. Not all 20,000+ stocked products will be uploaded online initially, however a very large proportion, some 15,000+, of them will once finished. Also, 'specials' wouldn't be available online (even if re-ordering past orders), these will always need to be ordered via the branch direct.
Customers completing their order list online will allow Smith Brothers to process your orders quicker than normal, with staff solely focused on making sure your order is delivered in full with next day delivery where possible. The business prides itself on staff, stock and service which won't change with an online order. It just ensures our experienced staff handle your order more efficiently with a quicker turnaround and reduced lead times.
Even the ordering is subject to its own roadmap so deliveries and collections will develop over time making the process even easier.
Product Portfolio
The website houses thousands of stocked products, which are separated into easy to navigate categories and sub-categories, with the addition of a search function, filters and manufacturer overview. Customers will also be able to create wish lists for popular products.
Categories include:
Metal Pipe Systems
Plastic Pipe Systems
Valves
Drainage
Commercial Heating & Plant
Air Conditioning
Consumables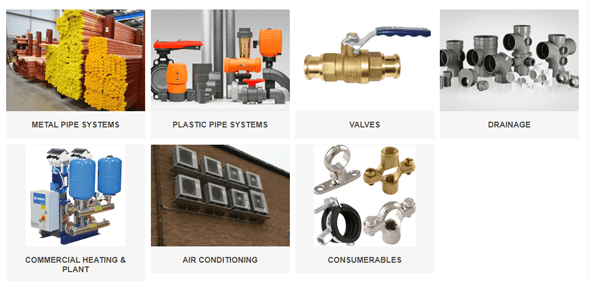 Helpful Resources
To aid customers with ordering, we will begin to populate products with a plethora of technical information, created and provided by the manufacturer with the customer in mind. This will include Luckins links, BIM information, Technical Sheets and Product Videos, so customers can get key technical information at the click of a button.
Compare Products
SBS stocks a huge range of products and it can often be hard selecting the one right for you. A product comparison tool will become available so customers can compare key product attributes and pick the most suitable product to fulfil the project at hand.
Not comfortable or need help online?
The answers to the most common of queries can be found on our dedicated FAQ (frequently asked questions) page. We will be releasing a series of tutorial videos which will help viewers navigate around the website and introduce them to the key features.
Of course, our helpful and knowledgeable staff will always be on hand to assist customers if you still need some assistance.
How do I access my account?
If you're already a Smith Brothers customer, you can quickly and easily complete the portal application form by clicking the link below. Once the request is validated internally, contact will be made what to do next.
Smith Brothers Online Portal Application Form
What if I'm not already a Smith Brothers customer?
Apply for a trade account today by completing the credit account application form in the link below.