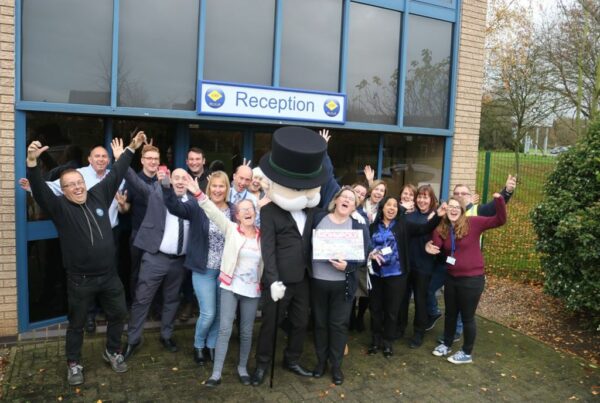 Advance to Smith Brothers. If you pass go, collect M200
Have you ever fancied owning Smith Brothers Stores? Well now you can as SBS occupies the famous Trafalgar Square's position on the first ever Leicester Edition of the Monopoly board game, which was released on November 22nd 2019.
All eyes have been on Leicester in recent years after King Richard III was found buried in a car park, and who can forget Leicester City's famous Premier League winning campaign? A Leicester edition of Monopoly gives all those connected to Leicester a chance to celebrate everything great about the City.
Traditions
Smith Brothers are delighted to be part of the family favourite board game; and our inclusion in the first ever Leicester edition of Monopoly symbolises SBS's strong historic presence, not just within the market we operate within, but also the community where we were founded.
Like Monopoly (founded in 1933), SBS has strong traditional roots having been founded in 1897. Today, our head office is situated in Blaby, Leicester, and we also have a depot located in the city centre. Our parent company Smith Brothers (Leicester) Ltd has operated from the Aylestone Road premises since 1902, and have only recently had their famous 'wrong' postcode corrected – Sat Nav users can now rejoice!
An ever-growing business
Tradition aside, Smith Brothers also feature regularly in the Leicestershire Top 200 Companies, signifying the continued growth of the business. In 2016, the business was listed at number 74 with a turnover of £66,745,000. Just three years later, Smith Brothers ranking has improved to 51, we are confident of breaking the Top 50 next year.
A walk down memory lane
Monopoly was created in 1933 by Charles Darrow who developed the first ever edition of the board game based on Atlantic City in New Jersey. In 1935, The Parker Brothers purchased the rights to publish the game having originally rejected the concept two years prior. The London edition of game we've all come to know and love was first manufactured in 1935 by Waddingtons (Monopoly's then UK publisher).
In 1998, Winning Moves procured the Monopoly license from Hasbro (who had acquired Parker Brothers in 1991). Winning moves went on to create new UK city and regional editions which are still produced and released annually to this day. In its 80-year history, Monopoly has become a worldwide family favourite with over 1,000 versions of the game developed. It's now Leicester's and Smith Brothers turn to join the illustrious list.
Who else is on the board?
The Haymarket Clock Tower and Thomas Cook Building take the brown tiles of Old Kent Road and Whitechapel – the cheapest properties on the board. Leicester's sporting elite occupy the pink tiles with Leicester City, Leicester Tigers and Leicester Riders all represented.
The King Richard III Visitor Centre sits atop Mayfair's prestigious (and most expensive) tile on the board, whilst The National Space Centre takes the place of Park Lane, the other Blue tile on the board.
If you want to find out the full listing, click here.
Did you know?
A wartime plan hatched between the government and Waddington's saw secret escape maps produced by the company for Allied prisoners of war. Monopoly boards were then used by fake charities to send the maps and related messages to prison camps in Nazi occupied Europe. Using this information, some prisoners managed to escape and some even made their way to neutral countries and back home – truly inspiring!!
How to buy the Leicester edition of Monopoly
The Leicester edition of Monopoly is available to purchase now from local stores and online – Just in time for Christmas!!