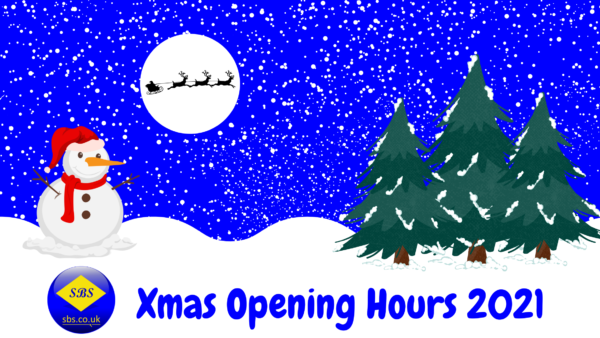 Christmas Opening Hours 2021
With Christmas fast approaching, we urge all customers and suppliers to make note of our opening hours between Christmas and the New Year.
All Smith Brothers branches are open for business as usual on the 23rd of December but will be closing early on Christmas Eve at 12pm until the New Year.
However, Head Office will be open as normal on 23rd of December, and then will close after 5pm on the Thursday, and remain closed until 2022.
The majority of our branches will reopen after the bank holiday on Tuesday 4th January 2022, with the exception of SBS Glasgow who will reopen on the 5th. From this date, all branches will be back to normal trading hours.
Some of our branches will be operating a call out service throughout the Christmas break, contact your local SBS representative to find out more. Please be aware that this service might be subject to an additional charge.
SBS Cambridge
Smith Brothers will be starting 2022 on the front foot with the official opening of SBS Cambridge on the 4th of January, Smith Brothers' 17th trading location. Click here to learn more about the branch as well as SBS Sheffield and High Wycombe, both new additions to Smith Brothers' branch network this year.
Please find your local branch's Christmas opening hours below:
Birmingham:
| | |
| --- | --- |
| Thu 23rd Dec 2021 | Open as usual |
| Fri 24th Dec 2021 | 07:30 – 12:00 |
| Sat 25th Dec 2021 – Mon 3rd Jan 2022 | Closed |
| Tue 4th Jan 2022 | Open as usual |
Bristol:
| | |
| --- | --- |
| Thu 23rd Dec 2021 | Open as usual |
| Fri 24th Dec 2021 | 07:00 – 12:00 |
| Sat 25th Dec 2021 – Mon 3rd Jan 2022 | Closed |
| Tue 4th Jan 2022 | Open as usual |
Cambridge:
Tue 4th Jan 2022
Opening for business!
06:30 – 17:00 (Mon – Fri)
Cardiff:
| | |
| --- | --- |
| Thu 23rd Dec 2021 | Open as usual |
| Fri 24th Dec 2021 | 07:00 – 12:00 |
| Sat 25th Dec 2021 – Mon 3rd Jan 2022 | Closed |
| Tue 4th Jan 2022 | Open as usual |
Glasgow:
| | |
| --- | --- |
| Thu 23rd Dec 2021 | Open as usual |
| Fri 24th Dec 2021 | 07:00 – 12:00 |
| Sat 25th Dec 2021 – Tue 4th Jan 2022 | Closed |
| Wed 5th Jan 2022 | Open as usual |
Head Office:
| | |
| --- | --- |
| Thu 23rd Dec 2021 | Open as usual |
| Fri 24th Dec 2021 – Mon 3rd Jan 2022 | Closed |
| Tue 4th Jan 2022 | Open as usual |
Heathrow:
| | |
| --- | --- |
| Thu 23rd Dec 2021 | Open as usual |
| Fri 24th Dec 2021 | 07:00 – 12:00 |
| Sat 25th Dec 2021 – Mon 3rd Jan 2022 | Closed |
| Tue 4th Jan 2022 | Open as usual |
High Wycombe:
| | |
| --- | --- |
| Thu 23rd Dec 2021 | Open as usual |
| Fri 24th Dec 2021 | 07:00 – 12:00 |
| Sat 25th Dec 2021 – Mon 3rd Jan 2022 | Closed |
| Tue 4th Jan 2022 | Open as usual |
Leeds:
| | |
| --- | --- |
| Thu 23rd Dec 2021 | Open as usual |
| Fri 24th Dec 2021 | 07:00 – 12:00 |
| Sat 25th Dec 2021 – Mon 3rd Jan 2022 | Closed |
| Tue 4th Jan 2022 | Open as usual |
Leicester:
| | |
| --- | --- |
| Thu 23rd Dec 2021 | Open as usual |
| Fri 24th Dec 2021 | 07:00 – 12:00 |
| Sat 25th Dec 2021 – Mon 3rd Jan 2022 | Closed |
| Tue 4th Jan 2022 | Open as usual |
Merseyside:
| | |
| --- | --- |
| Thu 23rd Dec 2021 | Open as usual |
| Fri 24th Dec 2021 | 07:30 – 12:00 |
| Sat 25th Dec 2021 – Mon 3rd Jan 2022 | Closed |
| Tue 4th Jan 2022 | Open as usual |
Newcastle:
| | |
| --- | --- |
| Thu 23rd Dec 2021 | Open as usual |
| Fri 24th Dec 2021 | 07:00 – 12:00 |
| Sat 25th Dec 2021 – Mon 3rd Jan 2022 | Closed |
| Tue 4th Jan 2022 | Open as usual |
Northampton:
| | |
| --- | --- |
| Thu 23rd Dec 2021 | Open as usual |
| Fri 24th Dec 2021 | 07:30 – 12:00 |
| Sat 25th Dec 2021 – Mon 3rd Jan 2022 | Closed |
| Tue 4th Jan 2022 | Open as usual |
Oldham:
| | |
| --- | --- |
| Thu 23rd Dec 2021 | Open as usual |
| Fri 24th Dec 2021 | 07:30 – 12:00 |
| Sat 25th Dec 2021 – Mon 3rd Jan 2022 | Closed |
| Tue 4th Jan 2022 | Open as usual |
Peterborough:
| | |
| --- | --- |
| Thu 23rd Dec 2021 | Open as usual |
| Fri 24th Dec 2021 | 08:00 – 12:00 |
| Sat 25th Dec 2021 – Mon 3rd Jan 2022 | Closed |
| Tue 4th Jan 2022 | Open as usual |
Rainham (London East):
| | |
| --- | --- |
| Thu 23rd Dec 2021 | Open as usual |
| Fri 24th Dec 2021 | 07:00 – 12:00 |
| Sat 25th Dec 2021 – Mon 3rd Jan 2022 | Closed |
| Tue 4th Jan 2022 | Open as usual |
Sheffield:
| | |
| --- | --- |
| Thu 23rd Dec 2021 | Open as usual |
| Fri 24th Dec 2021 | 07:00 – 12:00 |
| Sat 25th Dec 2021 – Mon 3rd Jan 2022 | Closed |
| Tue 4th Jan 2022 | Open as usual |
Southampton:
| | |
| --- | --- |
| Thu 23rd Dec 2021 | Open as usual |
| Fri 24th Dec 2021 | 07:00 – 12:00 |
| Sat 25th Dec 2021 – Mon 3rd Jan 2022 | Closed |
| Tue 4th Jan 2022 | Open as usual |