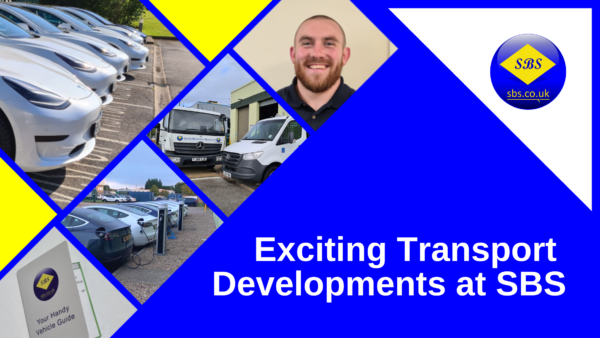 Exciting Transport Developments at SBS
The Smith Brothers transport department has made great strides in recent months as SBS continues to work towards a safer and greener future, despite the Covid-19 pandemic. In this article we look at some of the exciting developments to happen this year.
Electric Cars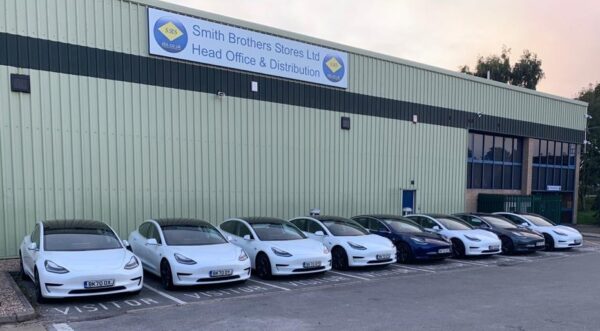 A major focus of the department is to reduce the emissions of the business, aligning with the government's aim to reduce carbon emissions to zero by 2050.
Smith Brothers have acted by beginning to transition away from petrol/diesel to hybrid and fully electric cars, which will significantly decrease the company's carbon emissions. In September, the business took delivery of eighteen Model 3 Tesla's, with more to follow. Over the coming months, charging points will be installed across the branch network to accommodate the increase of electric cars.
FORS – Maintaining and Improving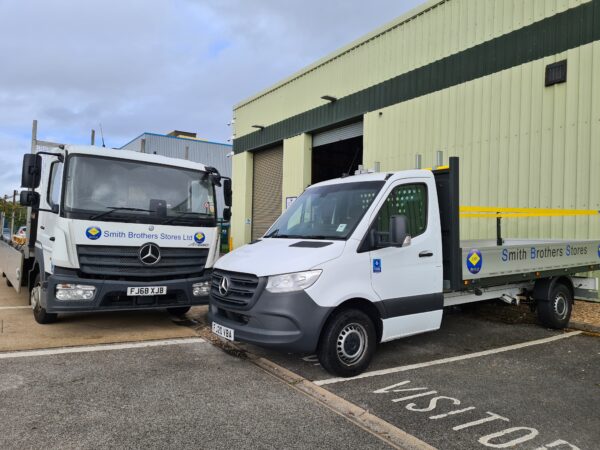 Smith Brothers continue to ensure our FORS (Fleet Operator Recognition Scheme) status is maintained and are even putting the foundations in place to upgrade to Gold membership, having held Silver status for the past 5 years.
FORS is a voluntary accreditation scheme for fleet operators which aims to raise the level of quality within their fleet operations. It also demonstrates which operators are achieving exemplary levels of best practice in safety, efficiency, and environmental protection. Being a FORS member brings the peace of mind that SBS is managing its work-related road risk (WRRR) whilst also demonstrating to our customers and supply chain that our commitment exceeds the industry standards.
Smith Brothers' ever-expanding fleet consists of 3.5, 7.5 and 12 tonne flatbed trucks, a 5 tonne curtain sider lorry and an 18 tonne lorry. Over the last 12 months alone, the business has replaced approximately 60 vehicles with newer 69, 20 and 70 plate vehicles. An investment which speaks volumes about the importance placed on in-house distribution and transport within the business.
In total, the business now possesses around 200 cars and commercial vehicles, which service our 16 depot network across England, Wales and now Scotland with SBS Glasgow officially opening in September.
Health & Safety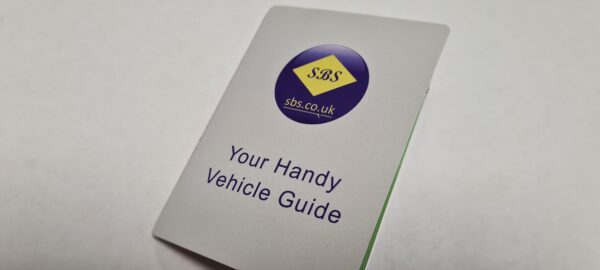 The business places great importance on all aspects of health & safety with operations constantly reassessed and improved if necessary.
Vehicles are subjected to a daily walkaround safety check with results recorded on the vehicle's personal digital assistant, giving the business a professional and efficient system, as opposed to the previous paper method procedure. It also gives SBS better monitoring and compliance as these reports are uploaded and can be viewed immediately upon completion.
2020 has seen the business quickly adapt and implement new safety measures to help combat the spread of Covid-19. In March, the business introduced a non-contact delivery service, where drivers unload vehicles themselves (when safely able to do so). Once unloaded, our drivers return to the cab whilst the customer collects the delivery. Alternatively, the load can be arranged to be accessed easily by the customer whilst the driver waits in the vehicle cab.
The business has upgraded its vehicle footage recording capabilities by utilising cloud-based software, meaning data can be promptly retrieved. The system includes audio warnings along with front, rear and side facing cameras. The footage is available for both driver training purposes and incident investigation when required.
Every vehicle within the fleet is also equipped with a handy vehicle guide to remind drivers of the correct procedures to use in multiple situations, ranging from breakdowns and collisions to advice on driving through adverse weather.
Driver Training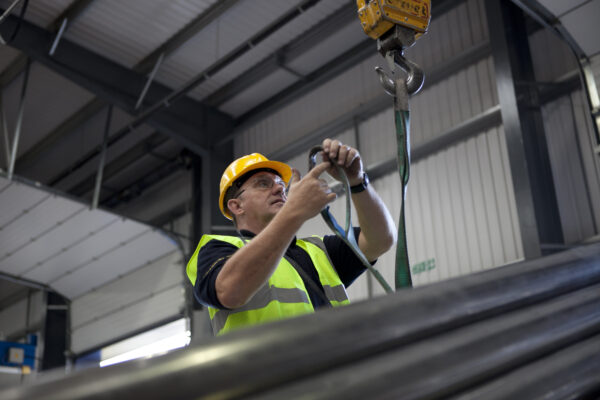 With staff and service making up two-thirds of the SBS promise, the business ensures staff members are trained to the highest standards. This regular training includes correct vehicle loading and unloading, improving general road safety, reducing risk of collisions and identifying vulnerable road users.
Andrew Teer, Transport Operations Manager said, "We have recently updated our employee induction process and have retrained all drivers on the importance of correct load safety procedures. We are also putting together a video/electronic induction process for all current and future temporary personnel, such as agency staff, to undertake prior to working at SBS."
Additional Branch Network support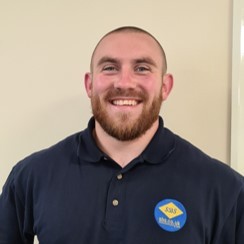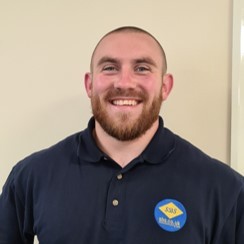 To help accommodate all the new practices implemented by the business, Brendan Berry has joined the SBS family.
Brendan recently joined the business as Transport Audit & Training Officer. This newly created role will enable the transport department to continue to provide compliance across the branch network as Smith Brothers continues to grow, whilst also bringing additional support and presence at branch level.
Other Green Initiatives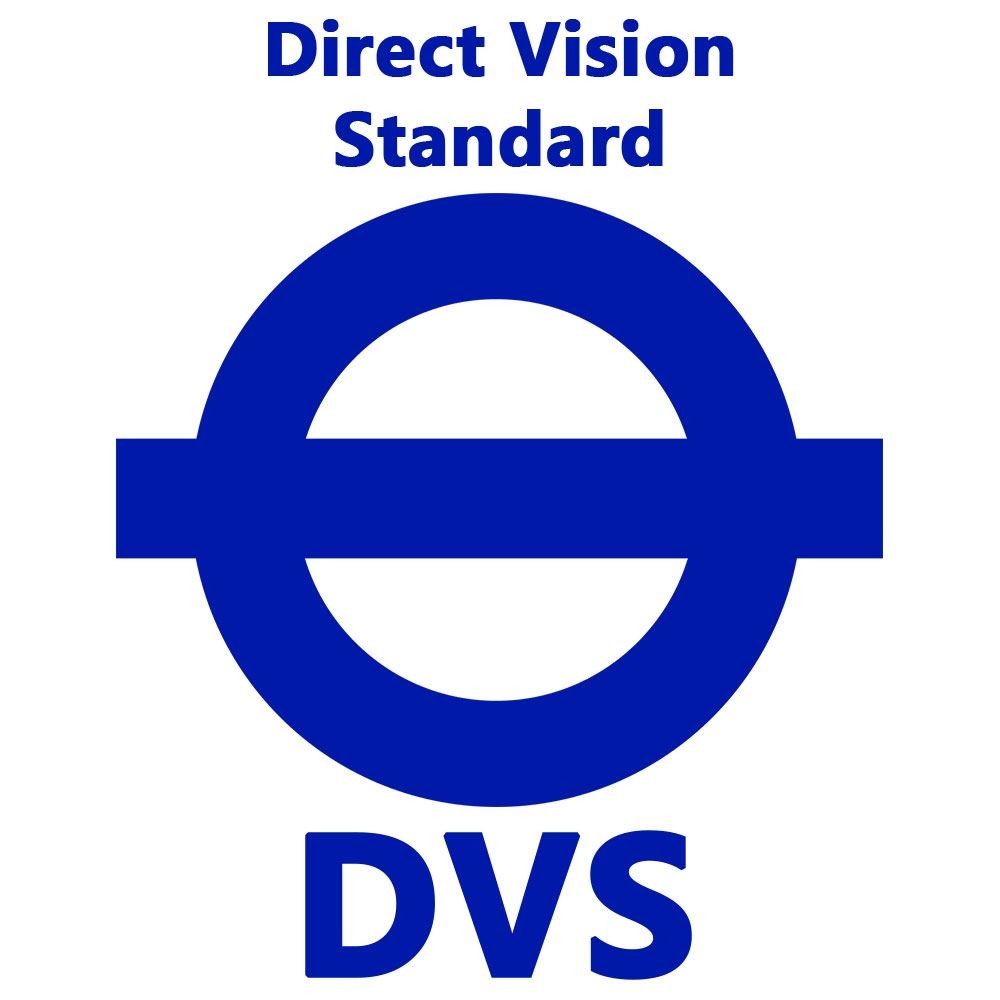 Where possible, the company meets the standards for both the 'Low Emissions' and 'Ultra Low Emissions' zones set by Transport for London. This was due to expand into Leeds and Birmingham, however implementation has been postponed due to the Covid-19 pandemic.
Our fleet continues to meet the environmental policy set out by the FORS accreditation, such as meeting the Euro 6 standards for all our transport.
SBS also complies to DVS (Direct Vision Standard) certification, which requires operators of lorries over 12 tonnes of weight to obtain a permit to enter or operate in Greater London. If the vehicles do not comply with the DVS, or do not have an HGV safety permit when going into Greater London, they will receive a penalty charge notice.
Our transport team does highlight to our staff the availability to purchase a bike through the Bike2Work scheme, including electric bikes. This means staff can follow a healthier lifestyle and have access to greener transportation for the commute to work.
For additional information about our green initiatives, visit the link: http://sbs.co.uk/sbs-news/sbs-going-green/